Rape culture in India puts women and girls at high risk of sexual violence every day. Sexual illiteracy is one of the main causes of India's rape crisis. So, sex education is an important way to help stop it.
Rape culture and sexual violence in India
There were 32,033 cases of sexual violence in India in 2019. Of those, 94.2% of attackers were known to the victim. Also, family members of the victim committed 2,916 of cases. Neighbours, employers, or friends committed 10,398 cases.
So, online friends, separated husbands, and partners were responsible for over half (or 16,311) of rapes. Further, cases among Dalit people (one of the most marginalized tribes in India) were very high. There were 10 Dalit women raped every day in 2019.
The following year, in 2020, there were approximately 28,000 cases. Most victims (approximately 63%) were aged between 18 and 30. Young women in India are much more likely to face sexual violence than older women.
Why does sexual assault occur?
The root causes of sexual violence in India are social.
Firstly, India is a very patriarchal society. That means that men have more power and status. In Indian society, men are seen as breadwinners while women are homemakers.
Further, children tend to internalize patriarchal attitudes at a young age. Boys, for example, often believe that they are naturally violent. Equally, girls feel they must be subservient to men.
Yet, many Indian women are more financially independent today. They are challenging traditional gender roles and making their own choices. Unfortunately, this makes many men feel threatened. Some try to assert themselves with aggression and rape.
Victim Blaming in Rape Culture
Patriarchal attitudes are also evident in victim blaming. For example, it is often assumed that women are inviting rape. This may be because they wear short clothes, have boyfriends, go to parties, or use mobile phones. Even Indian politicians justify violent behaviour with the excuse that 'boys will be boys'. Unfortunately, the prevalence of such attitudes further encourages assault.
Finally, the absence of a national sex education program has preserved outdated attitudes. Young men in India tend to grow up in male-dominated environments with little to no sex education. Also, in rural areas, they often have very little contact with girls after puberty. This means that attitudes to women are never challenged. Many feel it is ok to objectify women and dominate them with aggressive behaviour.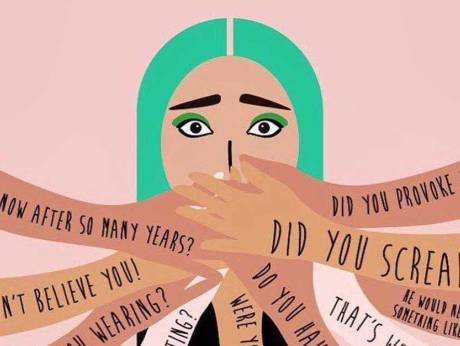 Impacts of rape culture on women
Rape can have significant negative impacts on women. Rape victims endure physical injuries, reproductive health issues, and long-term trauma. On top of that, they often suffer unplanned pregnancies and sexually transmitted disease.
Also, sexual assault raises a woman's risk of gynaecological problems, depression, and suicide. Victims struggle with low self-esteem and feelings of worthlessness and powerlessness. They can develop 'genophobia' (a fear of sex) too.
In a social context, sexual violence affects the way women interact with others. Communication, intimacy, trust, sexual relations, and social activities can be severely impacted. Family members, as well as friends and partners, can become extremely overprotective. Consequently, victims may avoid social interactions with men and feel unsafe in public settings.
Impacts of rape culture on society
Victim blaming stops many women from getting support from India's criminal justice system. This means that problems tend to get worse over time, rather than better.
Further, the impact of rape culture affects many people. Trauma symptoms often affect secondary victims of sexual assaults. These include family members, partners, and friends.
Finally, the impacts of India's rape culture affect national economic growth. In 2017-18, 23.3% of women aged over 15 were not working or seeking work. Notably, this figure is an historic low. The share of Indian women in the workforce has been falling over the past few decades.
There is a high likelihood that fear of violence is keeping women at home. Effectively, women are working reduced hours due to a fear of being out after dark. Yet, higher female workforce participation could boost GDP by $770 billion in 7 years.
How sex education addresses rape culture
Sex education is an important tool for preventing sexual assaults. It does this by addressing deep-rooted patriarchal attitudes.
For the World Health Organization, sex education "aims to build a strong foundation for lifelong sexual health by acquiring information and attitudes, beliefs and values about one's identity, relationships and intimacy". So, sex education covers a wide range of issues. This includes sexuality, contraception, gender identity, consent, and sexual abuse.
Mass media campaigns in India aim to inform people about these issues, especially adolescents. As a result, traditional attitudes towards sex are changing to a degree. In 2007, the Indian Government introduced the 'Adolescent Education Programme'. The goal was to support the acquisition of life skills among teenagers.
Yet, this program is still not mandatory in the school curriculum. In fact, it suffered bans in 12 states for being 'immoral'. In 2014, a right-wing health minister said he wanted to ban sex education. He proposed replacing it with yoga classes to 'promote Indian culture'.
Sadly, most Indian parents do not discuss sex with their children. This means that comprehensive sex education in schools is still a long way off.
The Challenge Ahead
The belief that sex education can 'corrupt' youth has been very influential. Sex education is still considered a 'western' practice and not a part of Indian culture. These attitudes prevent discussion about sexual and reproductive health. Indian parents and teachers are uncomfortable taking about it with children.
Unfortunately, that means adolescents often learn about sex from unreliable sources. They might pick it up from peers, from magazines, the internet, or from porn. Those sources are often regressive, gender biased, and heteronormative. That leaves young people with very poor understandings of sex, gender equality and violence.
Therefore, making sex education mandatory in Indian schools is an essential first step. Stopping rape culture means teaching young men how to engage with women. Firstly, they need to learn how to interact in sensitive and non-violent way. Misogynistic attitudes must give way to a culture of equality and respect.
For more on building more equitable and sustainable societies, visit THRIVE . The THRIVE Project is a not-for-profit, for-impact resource on sustainability. THRIVE is all about finding the pathways to a flourishing, more 'thrivable' future for all.